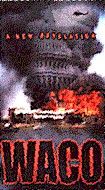 After six years of painstaking investigation, the complete story of the tragedy near Waco is finally coming to light. This shocking feature-length video presents new revelations about the events that led up to the deaths of 79 men, women and children at Mount Carmel on April 19, 1993.
Finally, here is the brand new documentary film on Waco that is making history. Waco: A New Revelation is the film that triggered a new Congressional investigation of the Waco tragedy and caused the Justice Department and the FBI to reverse their long-held positions on what occurred at Waco.
Waco: A New Revelation will shock you - or maybe it won't!
COMPLETE .50-CALIBER SNIPER COURSE Hard-Target Interdiction
by Dean Michaelis
Nowhere is the subject of using the big guns covered in more detail than in The Complete .50-Caliber Sniper Course. Before SFC Dean Michaelis (ret.) wrote this comprehensive book on sniping, he wrote a first-of-its-kind program of instruction for the Special Operations

Target Interdiction Course (SOTIC) at the 1st Special Forces Group (Airborne). A member of the 1st Special Forces Group, Michaelis and two other instructors taught students everything they needed to know about .50-caliber rifles andhard-target missions. Now he brings that information to you, covering every aspect of the sniper's art: the history, the equipment and the skills. Also included are reproducible forms, a military-issue .50-caliber cartridge tip color guide, and the author's exclusive Program of Instruction for Special Operations Hard-Target Interdiction Course. This book is an invaluable resource for military and civilian shooters alike. 8 1/2 x 11, softcover, photos, illus., 576 pp. $57.95

MILITARY AND POLICE SNIPER Advanced Precision Shooting for Combat and Law Enforcement by Mike R. Lau Here is an excellent companion volume to John Plasterís classic The Ultimate Sniper. Former officer in charge of the Advanced Marksmanship Unit at Ft. Hood, Texas, and now a professional gunsmith, Mike Lau provides a unique perspective on the fundamental and advanced skill areas of the police and military sniper. You will learn about terminal ballistics and characteristics of the great sniping rounds (.308, .223, .50 BMG and 7.62x51mm); uphill and downhill shooting; wind reading, range estimation and sight adjustment; engaging moving targets; managing the log/data book; tactical scenarios; sniper matches; and the favorite rifles and scopes used by the pros. 8 1/2 x 11, softcover, photos, illus., 360 pp.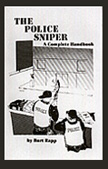 POLICE SNIPER A Complete Handbook by Burt Rapp
Reprinted or reworked military texts don't give the police sniper a realistic outline of what he needs to know. This book does: military firefights vs. civilian armed encounters, the urban setting, barricaded suspect types, SWAT team make-up and more. 5 1/2 x 8 1/2, softcover, photos, illus., 200 pp.